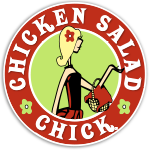 Job Information
Chicken Salad Chick

Kitchen Prep Lead

in

Destin

,

Florida
Company Introduction:
Chicken Salad Chick provides a delicious menu with a variety of 12 Chicken Salads, homemade sides, delicious soups, and great sandwiches. This location is one of the originals to the franchise and we are looking for a hospitality professional to help us maintain a team of excellence and superb service.Overview:
The Kitchen Manager is responsible for
Always delivering crave-able food, in a timely manner, that meets or exceeds Chicken Salad Chick Quality Requirements

Coaching the behaviors of all Team Leaders and Team Members who work in the Kitchen.
Those behaviors include:
Sense of Urgency that creates surprisingly fast Speed of Service

Attention to detail that ensures preparation and production procedures are followed

Execution of systems that ensure a refreshingly clean environment

Maintaining a work environment that ensures and promotes food safety

Vigilant attention to the organization and appearance of the kitchen
As a Restaurant Manager you will:
Demonstrate a passion for the business and managing the overall operations

Find, train, develop and recognize the best people

Manage daily activities to ensure guests receive excellent customer service

Demonstrate a strong awareness and concern for food quality and safety

Adjust to multiple demands and shifting priorities
Behavior Characteristics:
Work a maximum of up to forty hours per week in the restaurant

Allocate at least two hours per week to planning

Focus on systematically and effectively communicating all Kitchen related goals and success factors to Team Members

Combine critical thinking and practical leadership to create a culture of innovation

Effectively coach and give direction

Intentionally and methodically grow and nurture relationships with the staff

Be able to connect with a multicultural team

Align hiring, training, daily practices and evaluation practices with the Vision of the organization and the Thematic Goal for the year

Enthusiastically and passionately lead the Kitchen team
Additional Responsibilities:
Inventory management

End-of-Month counts and input

Maintaining accurate transfer logs

Effective & efficient ordering

Maintaining a LEAN production environment

Coaching, evaluating, and providing accountability for all kitchen Team Members

Troubleshooting and repairing equipment and facilities

Ensure all necessary preventative maintenance and cleaning on a per set schedule.
Benefits:
OFF EVERY SUNDAY
8-2pm sifts
No fryers
Toll Reimbursement