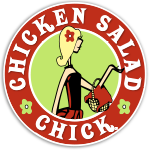 Job Information
Chicken Salad Chick

Company Marketing Mgr

in

Georgia
Description
Our Vision and Values:
Our brand vision is to become America's favorite place for chicken salad, and our company culture is summarized in the brand's purpose: to spread joy, enrich lives and serve others. It is our goal to serve fresh, made-from-scratch, delicious food with a servant's heart and uplift those around us. These values inform how we interact with our guests and fellow 'Chicks,' who include franchisees, restaurant teams and colleagues. We believe in family, passion, respect, working hard and having fun!
The Position:
The Company Marketing Manager will be our primary local marketing ambassador for Company-operated markets in Kentucky, Indiana, Nashville, TN and Ohio. These are growing markets for Chicken Salad Chick and we expect to continue expansion into these markets and open new restaurants.
The Company Marketing Manager will responsible for managing the planning & execution of all local marketing efforts to raise the brand's profile and grow sales in existing restaurants, and to open new restaurants in their respective markets. A key factor in the manager's success will be the ability to generate excitement about Chicken Salad Chick in these markets and work in partnership with the Company Operations team.
As our brand ambassador for Chicken Salad Chick, the Company Marketing Manager will make public appearances, work with community organizations like the Chamber of Commerce, businesses, hospitals and schools, and identify local media and event opportunities to build the brand and sales.
Reporting to the Director of Marketing, the Company Marketing Manager will work very closely with the VP of Company Operations, CMO, and Regional Director of Operations. They will also partner with the District Managers for Kentucky, Indiana, Nashville, TN and Ohio, as well as with the General Managers, to support their efforts to grow sales and delight guests. The Company Marketing Manager will also establish an effective relationship with the Catering Sales Manager for the region. Effective and clear communication and proper planning is essential to the success of this position.
The position will require traveling to restaurants within the respective markets. There will be frequent overnight/multi-day business trips for Grand Openings and supporting local efforts for existing restaurants. It's an ideal position for someone who is an organized, self-starter, but loves talking to people, and spreading joy to all they come in contact with.
The Responsibilities:
Responsible for managing community marketing initiatives including the development of a monthly marketing plan, in-store promotions, local sponsorships and events, and community outreach.

Accountable for budget execution & results analysis across all assigned stores.

Make public appearances in the assigned markets on behalf of Chicken Salad Chick, networking & sampling at appropriate events in the community.

Serve as the Project Manager for New Company Restaurants. Execute new store openings according to our Grand Opening Guide, including but not limited to the following activities:

Weekly Status & Construction Calls

Media Strategy

Pre-opening visits

Product Sampling

Friends & Family Invitation & Day of Execution

Day-of/Week-of execution

Social Media & Local Website Setup

Craving Credits loyalty program giveaway execution

Partner with media planning agency & Director of Marketing on recommended tactics for all markets.

Manage local social media pages for company restaurants and serve as the community manager, interacting with customers and engaging with the digital community.

Work closely with the Company Operations team including the Regional Director of Operations and District Managers. Also partner with the Catering Sales Manager.

Monitor & coach locations to maintain brand standards at all times.

Special projects as assigned.
Desired Experience and Required Attributes:
Bachelor's Degree in Communications, Public Relations, Marketing, Business Administration, or Related Field.

At least 3 years professional experience in field marketing, brand marketing, public relations, advertising agency or communications.

Restaurant and/or franchise concept experience in marketing is a plus.

Strong time management & organizational skills required.

Motivated self-starter with an entrepreneurial spirit, who can also bring order and discipline to a fast-paced, fast-moving business.

Problem-solver, hard-working, industrious, scrappy and positive attitude.

Passion for talking to people, relationship building, and spreading the "Chick" culture.

Working capabilities in the following programs: Microsoft Office Suite with excellent skills in Powerpoint and Excel. Knowledge of Adobe Creative Suite including Illustrator, Photoshop, and InDesign is a plus.

Based in the region (KY, IN, OH, TN) with ability for frequent overnight and daytime travel.

Ability to drive, as well as lift ten pounds is necessary.
Benefits:
The position will be based remotely. In addition to traveling in their respective markets, the Company Marketing Manager will also be required to travel to the Chicken Salad Chick office in Atlanta on a regular basis.

Full time position requires 40+ hours per week.

Health/Dental coverage available.

15 Days Paid Time Off (PTO) each year.
The above statements are intended to describe the general nature and level of work being performed by individuals assigned to this job. They are not intended to be an exhaustive list of all responsibilities, duties and skills required of personnel so classified. Team members may be asked to perform other duties as required by business needs.