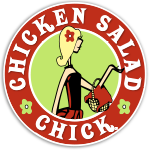 Job Information
Chicken Salad Chick

Back of House

in

Hampton

,

Virginia
Company Introduction:
Welcome to Chicken Salad Chick, where we offer delicious, scratch-made, Southern-style, craveable favorites served from the heart. We don't believe in strangers, just friends we haven't met yet—so come in and enjoy! You'll find fresh, healthy fare and gracious hospitality at our chicken salad restaurant. We know everyone has a different idea of what makes the perfect chicken salad recipe, so we've created several options. If you're a chicken salad lover, you'll discover something here to satisfy your tastes. From simple to savory to fruity and nutty or even a little spicy, you can pick the chick that suits your mood. We have over a dozen varieties of chicken salads along with pimento cheese or egg salad, served by the scoop, sandwich, or bowl. You'll also find delicious sides, soups, and desserts in addition to the scoops of chicken salad that started it all.Overview:
At Chicken Salad Chick, we are always keeping an eye out for Back of House Team Members who are friendly, enthusiastic, and who genuinely enjoy serving guests. Back of House Team Members who work at Chicken Salad Chick are given skills and life experiences that go beyond serving a great product in a friendly environment. The experiences we can provide you are an excellent stepping-stone to a successful future in the world of business.
We also offer many other great benefits such as:
A fun work environment where you can positively influence others.

Flexible schedules which include being closed on Sundays.

Learn first-hand from an experienced Operator that cares about you personally and is actively involved in the community.

Leadership opportunities to gain real world management experience to help you reach your professional goals.

Competitive pay.
Requirements and Responsibilities:
We are looking for applicants who exhibit the following qualities:
Consistency and Reliability

Cheerful and Positive Attitude

Values Teamwork

Loves Serving and Helping Others
We ask you to:
Smile, Create and Maintain Eye Contact

Honors and encourages others to follow the visions and values of the restaurant

Ability to multitask quickly, yet thoroughly

Team-oriented, adaptable, dependable, and strong work ethic

Ability to communicate effectively with guests and team members

Work Quickly and Efficiently

Serve guests by making entrees, sides, drinks and desserts

Offer an immediate and respectful response to all guest's needs.

Maintain cleanliness of your work area and the dining room, patio, parking lot, and restrooms.

Stock sauces, cups, lids, etc. as needed throughout your shift.

Follow Food Safety and Cleanliness Guidelines

Maintain integrity of recipes and proper food preparation

Maintain Proper Quality Parameters

Have the ability to communicate effectively in English

Be at least 18 years of age

Have the ability to lift and carry 10-55 lbs.

Have reliable transportation

Facemask, properly worn, are required

Willingness to cross train to meet business needs required

Applicants will also be expected to be able to work on their feet for several hours at a time and lift potentially heavy objects when necessary. Prior experience is preferred, but not necessary.