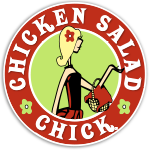 Job Information
Chicken Salad Chick

Assistant Manager TriCities

in

Johnson City

,

Tennessee
Company Introduction:
Chicken Salad Chick is THE place for chicken salad lovers to rejoice! We've taken this Southern favorite to a whole new level with over twelve flavors! We also offer tasty soups, sides, and desserts in addition to the chicken salad that started it all.
Want to be a part of the Chick? Looking for a restaurant career like no other you have ever experienced? One in which life balance is a part of our culture. Yep, we are closed on Sundays, and have no early morning late night hours of operations. Looking for a great opportunity to be in on a ground floor opportunity with one of the fastest growing regional chains in the Quick Casual Restaurant segment?Overview:
Job Description:
Position for either Johnson CIty or Bristol, TN. Direct, coordinate, implement & manage the planning, organizing, training and leadership necessary to achieve identified objectives/goals for sales, cost controls, employee hiring/training/retention, Guest service/satisfaction, product quality, and cleanliness/sanitation. Position is responsible for ensuring adherence & compliance for all standards of operating a CSC location.
Duties and Responsibilities:
Be a key support person for the GM as a Brand Ambassador for Chicken Salad Chick.

Understand & adhere/comply to all policies, procedures, standards, specifications, guidelines and training programs.

Ensure that all Guests feel welcome and are given responsive, friendly and courteous service.

Ensure that all products are consistently prepared and served according to CSC standards.

Achieve identified objectives for sales, service, quality, appearance of facility and sanitation and cleanliness through training of employees and creating a positive, productive working environment.

Control cash and other receipts by adhering to cash handling and reconciliation procedures.

Make employment and termination decisions consistent with GM guidelines/direction.

Operationally fill in where needed to ensure guest service standards and efficient operations.

Continually strive to develop staff in all areas of managerial and professional development.

Prepare all required paperwork, forms, reports in an organized and timely manner.

Ensure that all equipment is kept clean and kept in excellent working condition through personal inspection and by following the restaurant's preventative maintenance programs.

Ensure that all products are received in correct unit count and condition and deliveries are performed in accordance with the restaurant's receiving policies and procedures.

Oversee and ensure that employee performance appraisals are completed on a timely basis.

Schedule labor for anticipated business activity to provide optimal Guest service, product quality and operating standards while maintaining desired cost control goals for labor.

Always adhere to Brand Standards for uniform appearance and personal grooming.