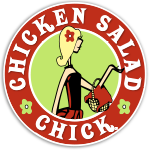 Job Information
Chicken Salad Chick

Service Team Member

in

Lady Lake

,

Florida
Company Introduction:
Chicken Salad Chick provides a delicious menu with a variety of 12 Chicken Salads, homemade sides, delicious soups, and great sandwiches. This location is one of the originals to the franchise and we are looking for a hospitality professional to help us maintain a team of excellence and superb service.Overview:
We are looking for reliable responsible people with open availability from 7:00am - 8:00 pm Monday - Saturday! Production team, Sandwich Line & Service Team...Part Time and Full Time hours available.
Pay depending on experience. We pay more if manager serve safe certified.
Requirements and Responsibilities:
We are looking for applicants who exhibit the following qualities:
Consistency and Reliability

Cheerful and Positive Attitude

Values Teamwork

Loves Serving and Helping Others
We ask you to:
Smile

Create and Maintain Eye Contact

Make Emotional Connections with Guests

Honors and encourages others to follow the visions and values of the restaurant

Ability to multitask quickly, yet thoroughly

Team-oriented, adaptable, dependable, and strong work ethic

Ability to communicate effectively with guests and team members

Work Quickly and Efficiently

Follow Food Safety and Cleanliness Guidelines

Maintain Proper Quality Parameters

Have a High School diploma or equivalent required

Have the ability to communicate effectively in English

Be at least 16 years of age

Be willing and able to work a flexible schedule

Have the ability to lift and carry 10-55 lbs.

Have a valid driver's license and reliable transportation

Facemask, properly worn, are required
Applicants will also be expected to be able to work on their feet for several hours at a time and lift potentially heavy objects when necessary. Prior experience is preferred, but not necessary.