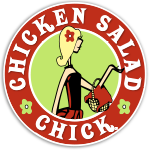 Job Information
Chicken Salad Chick

Team Member

in

Roanoke

,

Virginia
Company Introduction:
Chicken Salad Chick provides a delicious menu with a variety of 12 Chicken Salads, homemade sides, delicious soups, and great sandwiches. This location is one of the originals to the franchise and we are looking for a hospitality professional to help us maintain a team of excellence and superb service.Overview:
We are currently looking for highly motivated individuals for our Service Team!
* Starting Pay $12 dollars and Up!**
As one of our Team Members, you will be responsible for preparing a variety of products. These include chicken salads, pimento cheese, side salads, soups, sauces, cookies, desserts, and other food products using a variety of equipment and utensils. Strict adherence to Chicken Salad Chick standards for recipes, Speed of Service is a must, and employees will maintain kitchen cleanliness/sanitation standards.
As one of our Service Team Members you will perform a variety of duties including greeting/serving Guests, operating a Point Of Sale system for order taking, receiving payments & maintaining cash drawers, beverage preparation, stocking supplies, running orders, serving guests in the dining room and maintaining cleanliness/sanitation standards for Front Of House and restrooms.
We are specifically hiring for our day/lunch shifts, Monday - Saturday, but also have some need in the evening. Must be able to work Saturdays/some nights.
Our store opens at 10:30am and closes at 8:30pm. No more late nights! Our closing staff is out no later than 9:30, and we are also closed on Sundays.
Requirements:
Service Team
Always adhere to Brand Standards for uniform appearance and personal grooming.

Maintain a safe, clean, and organized work area.

Be a team player—support and assist your fellow team members whenever possible.

Maintain cleanliness/sanitation standards.

Greet Guests, take food/beverage orders, expediting orders, assist with dining room service.

Properly operate POS system for taking all types of Guest orders.

Responsible for properly charging Guests and for collecting payment for orders; cash, credit or debit card transactions.

Answer phone properly with knowledge to assist Guest with questions/information and take phone orders.

Interact with Guests in a friendly and efficient manner.

Restocks drink station and expo area, maintains restroom cleanliness, empties trash cans and helps to keep dining room and other Guest areas clean

Maintains proper product temperatures per standards.

Maintains portion-control for products per standards.

Cleans equipment, as assigned, thoroughly and in a timely fashion.

Keeps floor in work or service area clean and free of debris.

Completes daily tasks timely and thoroughly in accordance with standards.
Sandwich Line
Always adhere to Brand Standards for uniform appearance and personal grooming.

Completes duties on opening and closing prep and checklists.

Refers to Daily Prep List at the start of each shift for assigned duties.

Prepares a variety of food products including chicken salads, pimento cheese, side salads, soups, sauces, cookies, desserts, and other items for cooking/serving to Guest according to CSC recipe and product standards.

Understands and complies consistently with CSC standard portion sizes, cooking methods, quality standards and kitchen rules, policies and procedures.

Prepares all Guest orders with strict adherence to CSC standards for quality, portioning and appearance standards.

Prepares all Guest orders adhering to CSC SOS goals.

Prepares all food products in accordance with CSC portion sizes and recipe specifications.

Maintains a clean and sanitary work station including tables, shelves, walls, steamer, sandwich line, and refrigeration equipment.

Closes the line kitchen properly, following the closing checklist for line kitchen and assists others in closing the kitchen.

Attends all scheduled employee meetings and brings suggestions for improvement.

Promptly reports equipment and food quality problems to Management.

Informs Management immediately of product shortages.

Uses our Standard Recipe Cards for preparing all products. Does not rely on the personal memory or of other employees.

Performs other related duties as assigned by the Management.