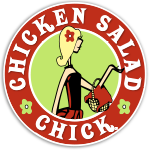 Job Information
Chicken Salad Chick

Team Member

in

Westerville

,

Ohio
Company Introduction:
Chicken Salad Chick provides a delicious menu with a variety of 12 Chicken Salads, homemade sides, delicious soups, and great sandwiches. This location is one of the originals to the franchise and we are looking for a hospitality professional to help us maintain a team of excellence and superb service.Overview:
At Chicken Salad Chick, we are always keeping an eye out for applicants who are friendly, enthusiastic, and who genuinely enjoy serving guests. Team members who work at Chicken Salad Chick are given skills and life experiences that go beyond serving a great product in a friendly environment. The experiences we can provide you are an excellent stepping-stone to a successful future in the world of business.
We are looking for applicants who exhibit the following qualities:
Consistency and Reliability

Cheerful and Positive Attitude

Values Teamwork

Loves Serving and Helping Others
Benefits/Perks::
A fun work environment where you can positively influence others.

Flexible schedules ( CLOSED on Sundays)

Learn first-hand from an experienced Owner/Operator that cares about you personally and is actively involved in the community.

Leadership opportunities to gain real world management experience to help you reach your professional goals.

Competitive pay and discounts.
Required Knowledge, Skills, and Abilities:
Smile

Create and Maintain Eye Contact

Make Emotional Connections with Guests

Honors and encourages others to follow the visions and values of the restaurant

Ability to work in a fast-paced environment

Ability to multitask quickly, yet thoroughly

Ability to communicate effectively with guests and team members

Work Quickly and Efficiently

Follow Food Safety and Cleanliness Guidelines

Maintain Proper Quality Parameters

Have a High School diploma or equivalent required

Have the ability to communicate effectively in English

Be at least 16 years of age

Be willing and able to work a flexible schedule

Excellent attendance and punctuality; reliability

Have the ability to lift and carry 10-55 lbs.

Have a valid driver's license and reliable transportation

Facemask, properly worn, are required

Previous restaurant and/or retail experience is preferred but not required
Physical Demands
Exert up to 40 pounds of force occasionally to lift, carry, push, pull or otherwise move objects

Must be able to stand and exert well-paced mobility, including bending and stooping, for the duration of the workday